Tony Chee is an NIE-trained teacher who has taught in top JCs and IP schools. He was also a Physics lecturer at the National Institute of Education, Singapore, where he trained Physics teachers, as well as Senior Head (Higher Education) at the Ministry of Education, Singapore, and an elected member of the Institute of Physics Singapore. Tony has obtained various qualifications and awards including First-class Honours in Physics and Mathematics, two Outstanding Contribution Awards by the Ministry of Education and the Singapore Government's Public Service Commission (Overseas) scholarship. Currently, Tony provides Physics Tuition at Best Physics Tuition Centre.
Tony is the author of A-Level Physics Mind Maps: Integrating Key Concepts. This book is written for students who are taking the GCE A-Level Physics examinations. In this Second Edition, various changes according to the latest syllabus modifications as well as improvements to existing content have been made to ensure that the mind maps continue to enhance the learning of physics concepts. The contents have been organised into concise notes to facilitate quick and easy revision for students.
Today, Tony shares more about this book and his experiences.
About your book
How will this book help students to prepare for their Physics examinations?
The mind maps in the book are crafted to show the interconnections between concepts. This will help students to understand the chapters at a deeper level.
2. How important is mind mapping for Physics?
Mind maps are particularly helpful for a subject like Physics due to the complexities involved in the concepts. The mind maps will help to break down the content into bite-sized information for easier consumption.
3. What else can students do to improve their mind mapping skills?
Students can also modify the mind-maps in the books, highlighting the key ideas they are familiar with, as well as annotating the ones which they may require more effort to master.
4. Can you name the most common error or misconception that students make/have when studying for Physics exams?
They may underestimate the time needed to study and digest the subject. As students study Physics, time is required to think through how the concepts are related to our surroundings. Relying on rote learning will make mastery of the subject difficult.
5. Lastly, do you have any additional insights to share with students on effective revision for Physics examinations?
My recommendation would be to start revising early and regularly. The consistent reinforcement will ensure that concepts stick in our minds more easily.
About Yourself/Work/Expertise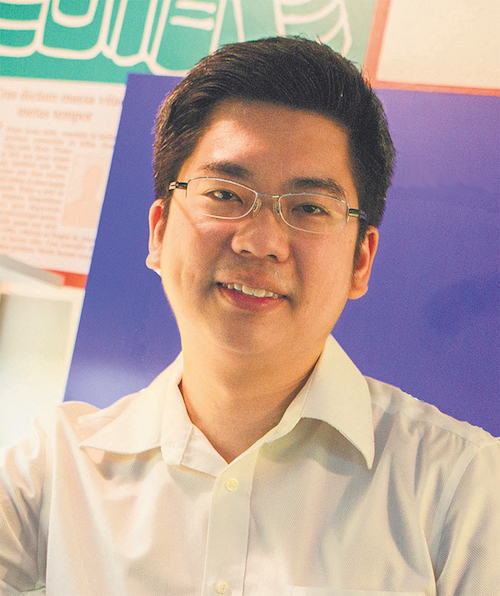 Why did you choose to teach Physics?
It is a field of study that mankind has developed to understand the fundamentals of the Universe. I enjoy the intricacies that this field of study brings to our perception of the surroundings.
2. What are some principles of Physics that people often overlook in everyday life?
The technological tools we use daily certainly involve Physics to a large extent. For example, the concept of Einstein's theory of relativity is essential for our global navigation system to work properly.
3. How different is training Physics teachers from teaching school students?
There are certainly various similar aspects. Just as we would train Physics teachers by requesting they stand in the shoes of students, students learn best when they imagine how they would explain the concepts to their peers.
4. What is the number one thing all Physics students should remember?
Ultimately the field of study that we choose for ourselves should serve to improve the quality of our lives and those around us, while at the same time protecting our Earth. The probability of finding Earth 2.0 is smaller than 10 raised to the power of -10.
5. What would you like your students to remember you for?
I don't really need them to remember me, but I hope that they realise that they embody the very essence of nature – the potentiality that anything can happen, and that a good, fruitful life awaits them!